Simple Wreath Salads are an easy way to decorate your table and offer a fresh healthy dish for your holiday feast! Try this seasonal combination featuring the best seasonal fruits and vegetables for the winter:
Salad Ingredients
mixed leafy greens
gala, pink lady, or fuji apple
tangerine segments
red beets
pomegranate seeds
raw pecan pieces
Dressing Ingredients
2 Tbsp olive or avocado oil
1 Tbsp stone ground mustard
1 Tbsp raw agave
Directions
Whisk dressing ingredients together. (This quantity serves 4, you can easily double or triple the batch as needed for the centerpiece of your wreath)

Clean all the lettuces and dry well.

Cut the beet into 1/4 inch thick segments and then using a star cookie cutter press into star shapes.

Slice the apple into 8 equal segments around the core. Then slice each segment into thin pieces. Or if you have a mandolin available slice into 1/8 inch slices on the mandolin or using the Choisons V-Slicer.

Prepare the pomegranate seeds by removing any segments of skin still remaining.

Lay out on a round plate around the edges a base of mixed lettuces.

Then layer around each topping ingredient until your wreath is formed.

Chill until ready to serve. Enjoy!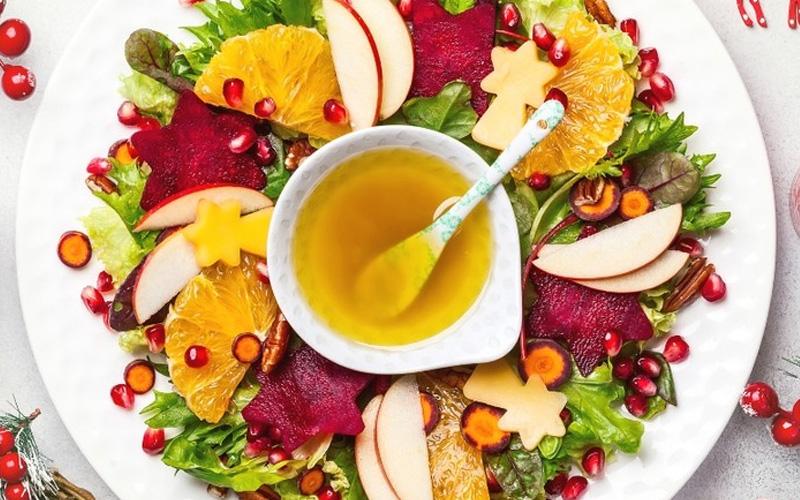 Tools to prepare your recipe
Liquid error (sections/pf-4f22518a line 314): product form must be given a product