Veggie Skewers with Chimichurri Sauce
Blend a double batch of this sauce in the Dynapro because we know your entire family will LOVE it! Plus when you blend under vacuum, you'll get even more flavor out of the fresh summer green herbs featured here.
Sauce Ingredients
1/8 cup fresh thyme
1 cup parsley leaves
1 cup cilantro leaves
2 Tbsp cider vinegar
1/4 cup olive or avocado oil
2-3 cloves garlic
1 tsp chili flakes
1 tsp sea salt
Ingredients for 8 Skewers
2 cups of whole cleaned cremini mushrooms
2 cups of baby tomato
2 cups of sliced onion
2 cups of diced pineapple
4 Tbsp olive oil
2 tsp of sea salt
Directions
Blend the sauce ingredients on high in the Dynapro Blender for 30 seconds and set aside.

Using your skewer, layer first the mushroom, onion, tomato, and then pineapple. Repeat 2 times.

When the skewers are full, brush with olive oil and sprinkle with sea salt.

There are 3 options for cooking these skewers:
#1 - Place them in the dehydrator at 118°F for 4 hours.
#2 - BBQ on medium heat for 8-10 minutes until vegetables are soft.
#3 - Bake at 350°F for 20 minutes.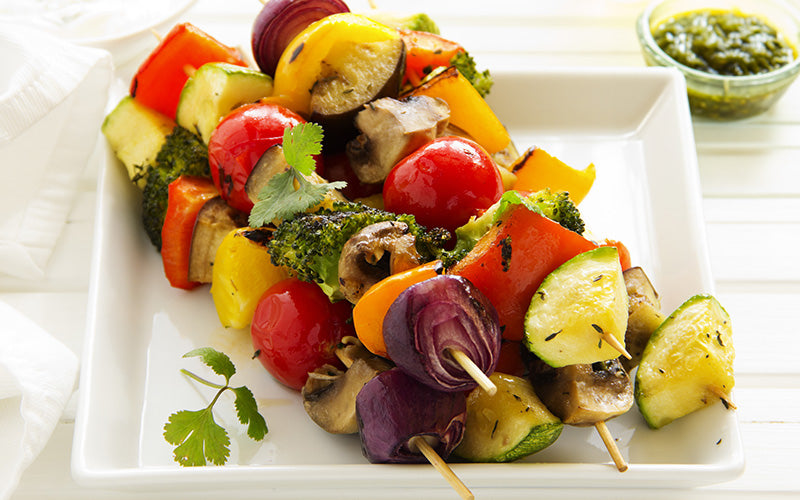 Veggie Skewers with Chimichurri Sauce
Tools to prepare your recipe
Liquid error (sections/pf-1423141c line 396): product form must be given a product