Chimichurri Squash Noodles
In just minutes, you can create a flavorful fresh dish that also offers a wide selection of health benefits! Due to the selection of fresh herbs that this recipe uses, it is rich in oxygenating chlorophyll for your blood. Zoodles, aka "zucchini noodles" are a low carbohydrate and low sugar alternative to traditional noodles.
Chimichurri Sauce Ingredients
1/8 cup fresh thyme
1 cup parsley leaves
1 cup cilantro leaves
2 Tbsp cider vinegar
1/4 cup olive or avocado oil
2-3 cloves garlic
1 tsp chili flakes
1 tsp sea salt
Zoodle Ingredients
2 mid-sized zucchini
1 cup baby tomatoes, sliced
Directions
Fill your Personal Blender 48 oz blending container with all the chimichurri sauce ingredients and blend for about 30 seconds.

Zoodle up your zucchini in the Shine Electric Spiralizer. Toss in your baby tomatoes.

Toss your zoodles with 4-6 Tbsp of sauce until well-coated. Top with fresh herbs and tomato.

Top with more fresh herbs and sliced tomatoes if desired. Enjoy and serve!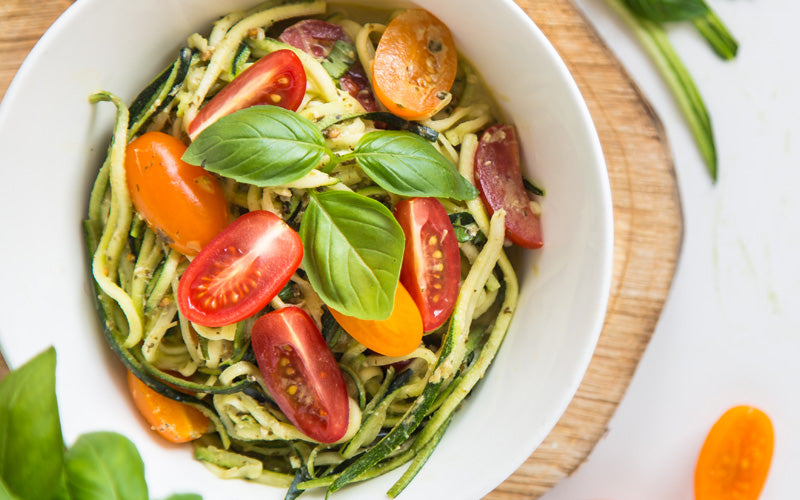 Chimichurri Squash Noodles
Tools to prepare your recipe
Liquid error (sections/pf-528e764b line 345): product form must be given a product