Dandelion Dreams Smoothie
Dandelion is rich in vitamins A, C, D, and B complex, and in trace minerals such as magnesium. It is known to have the highest vitamin A content of all greens. Dandelion is not only great to add to your smoothies and/or juices; you can incorporate it in your salads, spreads, breads, and jams. Because dandelion is a little bitter, you can add raw honey to help sweeten the taste of the smoothie. (This would be a raw recipe if you eliminated the Shilajit.) Shilajit is a powder which is harvested by hand, and then dried at a low temperature. Containing over 85 minerals, Shilajit is said to remove weakness from the body and build strength as a result. I started taking Shilajit after my acupuncturist recommended it to me. A month later, when I went back to my acupuncturist, he told me that my pulses had never been better. Since that time, I have consistently improved and continue to get stronger.
Ingredients
3 dandelion leaves
2–3 bananas
⅛ to ¼ tsp Shilajit
1 Tbsp raw honey
1–2 cups spring water
1 tray ice cubes
raw cacao nibs, sprinkle on top of smoothie (optional)
wedge of pineapple (optional)
Directions
Add all ingredients into your blending container.

Blend ingredients together in a high-speed blender for 1 minute or until smooth.

Enjoy and serve!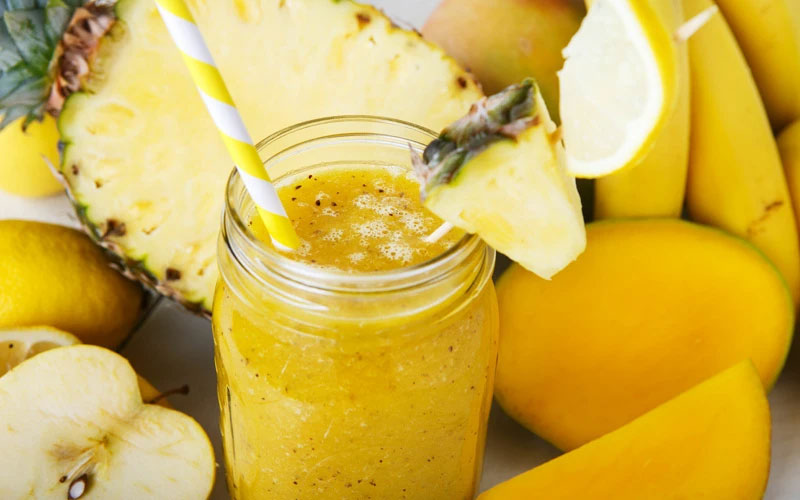 Dandelion Dreams Smoothie
Tools to prepare your recipe
Liquid error (sections/pf-3ef04b36 line 332): product form must be given a product