Spiralize Your Way to Health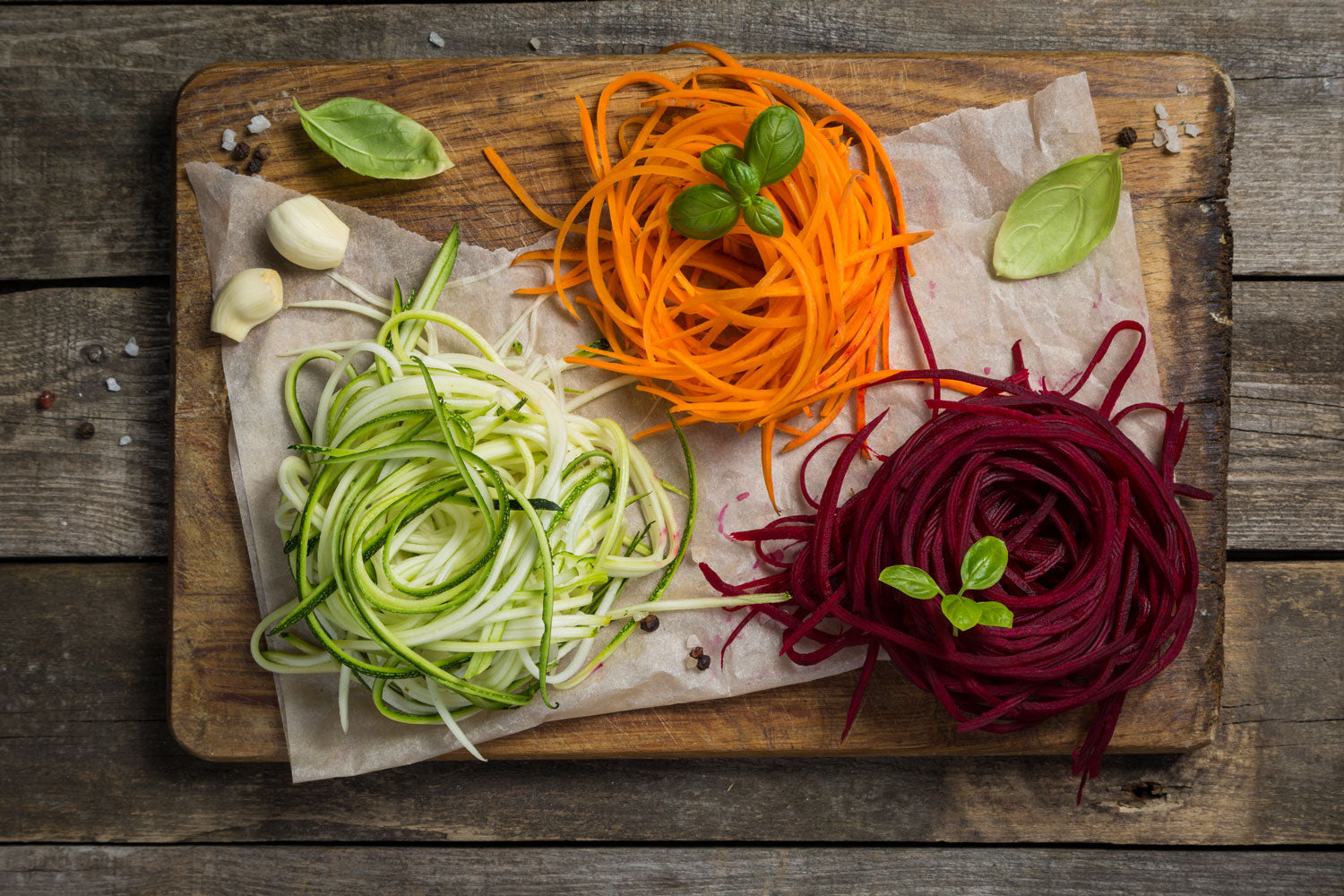 When we were in the test kitchen creating our new Shine Electric Spiralizer, we had quite a wishlist for this new tool. It had to be easy to use, it needed to have options for different styles of noodles—PLUS, it needed to get rid of the mess and frustration you feel when your produce slips.

After months of testing, we developed the No-Slip Grip that holds your veggies from the outside, rather than the soft inner flesh. This stops the Shine Spiralizer from failing, unlike other electric spiralizers, resulting in long, continuous noodles in 4 different shapes and sizes. The powerful motor goes through whole zucchini, carrots, squash, sweet potatoes, and more in seconds.
This is spiralizing made easy.
Check out these simple recipes to get started with. You'll find the Shine Electric Spiralizer is a great companion for all your weekly food prep and makes it easy to enjoy bowls, salads, and vegetable side dishes from healthy, nutrient-rich vegetables.
Shine Kitchen Co.® Electric Spiralizer
SES-100-A
Create fresh, plant-based noodles in seconds from whole produce! Easily create your spirals from 4 unique blade attachments. Your options range from thin, light noodles to thick, ribbon-styled vegetable garnishes.
SHOP NOW
Spicy Chimichurri Noodles
Things you'll need:
• 2 medium zucchini
• 1 cup sliced baby tomato
For the sauce:
• 1/8 cup fresh thyme
• 1 cup parsley leaves
• 1 cup cilantro
• 2 Tbsp cider vinegar
• 1/4 cup olive oil
• 2-3 cloves garlic
• 1 tsp chili flakes
• 1 tsp salt
WATCH VIDEO
Directions: Blend sauce ingredients well in your personal blender. Zoodle up your zucchini in the Shine Electric Spiralizer. Toss your zoodles with 4-6 Tbsp of sauce until well-coated. Top with fresh herbs and tomato.
Vegan Greek Salad
• 1 English cucumber
• 1 cup olives
• 2 cups sliced baby tomatoes
• 1 cup feta crumbles
• 2 Tbsp olive oil
• 1 Tbsp Greek spices
Directions: Spiralize the cucumber with the Shine Electric Spiralizer using its fettuccine blade. Add 4 cups of the spirals to a large bowl. Add in the rest of the ingredients and toss together well. Yummm!
WATCH VIDEO
Creamy Thai Carrot Salad
For the sauce:
• 1/2 cup water
• 1/2 cup raw cashews
• 2 Tbsp lemon juice
• 1 Tbsp tamari
• 1 tsp raw sweetener
• 1 small piece ginger
For the bowl:
• 1 cup carrot noodles
• 1 cup squash noodles
• 1/3 cup chopped cilantro
• Red chili flakes to garnish
WATCH VIDEO
Directions: Spiralize the veggies and set aside until ready to use. Blend all sauce ingredients in the personal blender until creamy. Pour sauce over noodles, garnish and serve fresh!
Liquid error (sections/pf-37b66c5d line 362): product form must be given a product