A Healthy & Delicious Guide to Pumpkin Spice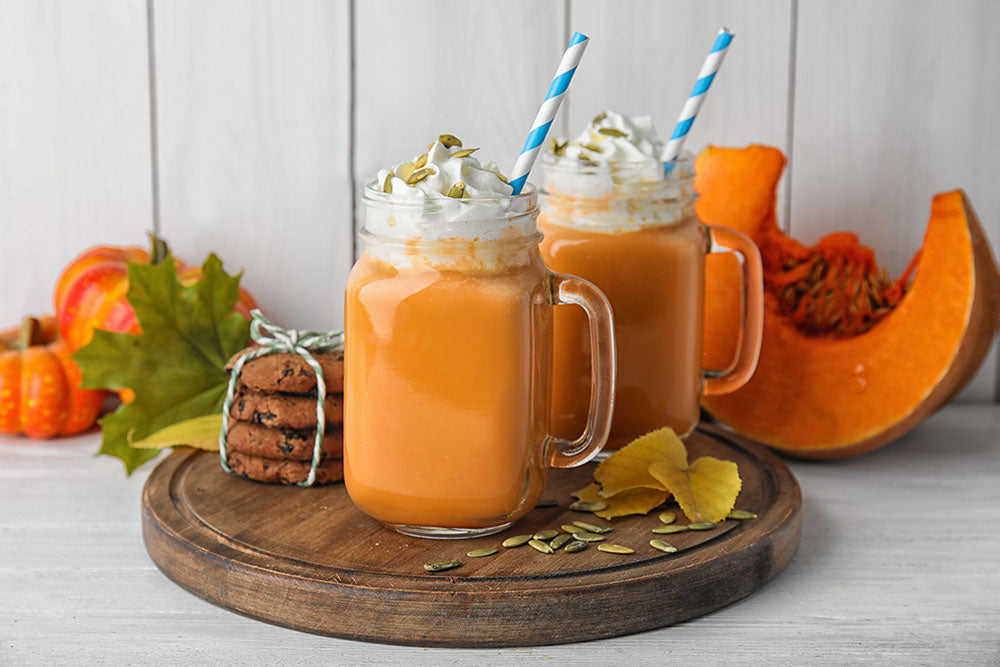 Enjoy some pumpkin spice this season that boosts your health at the same time! From our famous Pumpkin Pie Smoothie to the Pumpkin Spice Parfait, these heart-warming season's favorites are a must-try.

Before you get started tasting these 5 great recipes, here are some fun facts...
How is Pumpkin Spice (and all that's nice) a great addition to your regular meal planning?
1. Cinnamon, a key ingredient in pumpkin spice, is alkalizing!
It helps reduce inflammation in your body and boosts your circulation all at the same time.
2. Pumpkin Spice is packed with "warming spices."
Warming spices like ginger, cardamom, and clove help your body with keeping warm in the winter season and boost your metabolism.
3. Pumpkin spice boosts your mood.
The uplifting fragrance of all the fresh spices helps your brain focus while at the same time providing a sense of calm….yes please—more pumpkin spice!
Enjoy these Pumpkin Spice Recipes
Pumpkin Pie Smoothie
• 1 frozen banana
• ½ cup plant mylk
• 4 Tbsp pumpkin puree
• 1 Tbsp almond butter
• 1 tsp pumpkin pie spice
• ½ tsp cinnamon

Directions: Blend all ingredients well in the Dynapro or Glass Personal Blender under vacuum for the longest shelf life and creamiest texture!

Chef Tip: Freeze your leftovers in ice cube trays to enjoy as a quick frozen treat later in the week!
SHOP BLENDERS
Pumpkin Spice Cashew Milk Latte
For the milk:
• 1 cup raw cashews
• 2 cups water

Directions: Fill cashews and water in the Soyabella and run the RAW cycle 4 times for a rich and creamy milk. Remove the pulp and then add the following:
• 1 Tbsp raw liquid sweetener of choice
• 1 tsp cinnamon
• 1 tsp pumpkin pie spice
Then run the RAW cycle 2 times to mix in the spices well!

Now you are ready to make your latte! In the Shine Pour Over Coffee Machine, brew 1 cup of medium roast coffee, add ¼ cup of the Pumpkin Spice Cashew Milk, and sprinkle with pumpkin spice to top! Add your favorite coconut whipped cream as an added dose of sweetness and for a boost of healthy fat!
Pumpkin Spice Yogurt Parfait
Pumpkin layer:
• 1½ cups almond yogurt
• 1 cup pumpkin purée
• 4 Tbsp agave nectar or 2-4 drops stevia
• 1 tsp pumpkin pie spice
• ½ tsp sea salt

Yogurt layer:
• 1½ cups almond yogurt

Pecan layer:
• 2 cups pecan pieces
• 2 Tbsp agave nectar
• 1 tsp pumpkin pie spice
• 1 pinch sea salt
Directions: In a blender, blend the pumpkin layer ingredients for 1 minute. Split the pumpkin mix in half and layer the first half into four 8 oz mason jars. Follow this layer with half of the yogurt layer. Blend the pecan layer ingredients for 20-30 seconds. Split the pecan mix in half and put one half in each jar as the next layer. Follow this layer with the other half of the yogurt layer. Finish with fresh pecans and a sprinkle of spice on top!
Pumpkin Spice Soup
• 2 cups steamed butternut squash
• 2 cups steamed pumpkin
• 4 Tbsp coconut milk
• 1 Tbsp cinnamon
• 1 tsp pumpkin spice
• 1 pinch sea salt

Directions: 1) Blend all ingredients for 1-2 minutes or until the consistency is smooth. 2) Garnish with pumpkin seeds and almond cheese for a rich creamy bite every time! 3) Serve and enjoy!

Chef Tip: If you can blend a double or triple batch of this, you will thank yourself later! This soup saves easy in the freezer and can be made in advance in preparation for that sweater weather!
Pumpkin Spice Cider Juice
This is a fun, juicy recipe that can be prepared in any of our juicers, but our favorite for this recipe is the new Shine SJX Easy Juicer!

• 2 cups pumpkin, diced
• 2 cups green apples
• ½ tsp pumpkin pie spice
• ½ tsp cinnamon

Directions: Add the pumpkin and apples to the SJX Chute and turn on, alternating any additional ingredients for larger batches for best results. Stir in the spices, and your Pumpkin Spice Cider is ready to enjoy!
This is such a fun recipe as it comes out bright ORANGE if you remove the skins. It's perfect for your pumpkin spice party and entertaining during the season. PLUS it's full of potassium!
Shop Fall-Favorite Tools for Healthy Living
Liquid error (sections/pf-54a5c848 line 363): product form must be given a product