3 No-Fail Daily Detox Ideas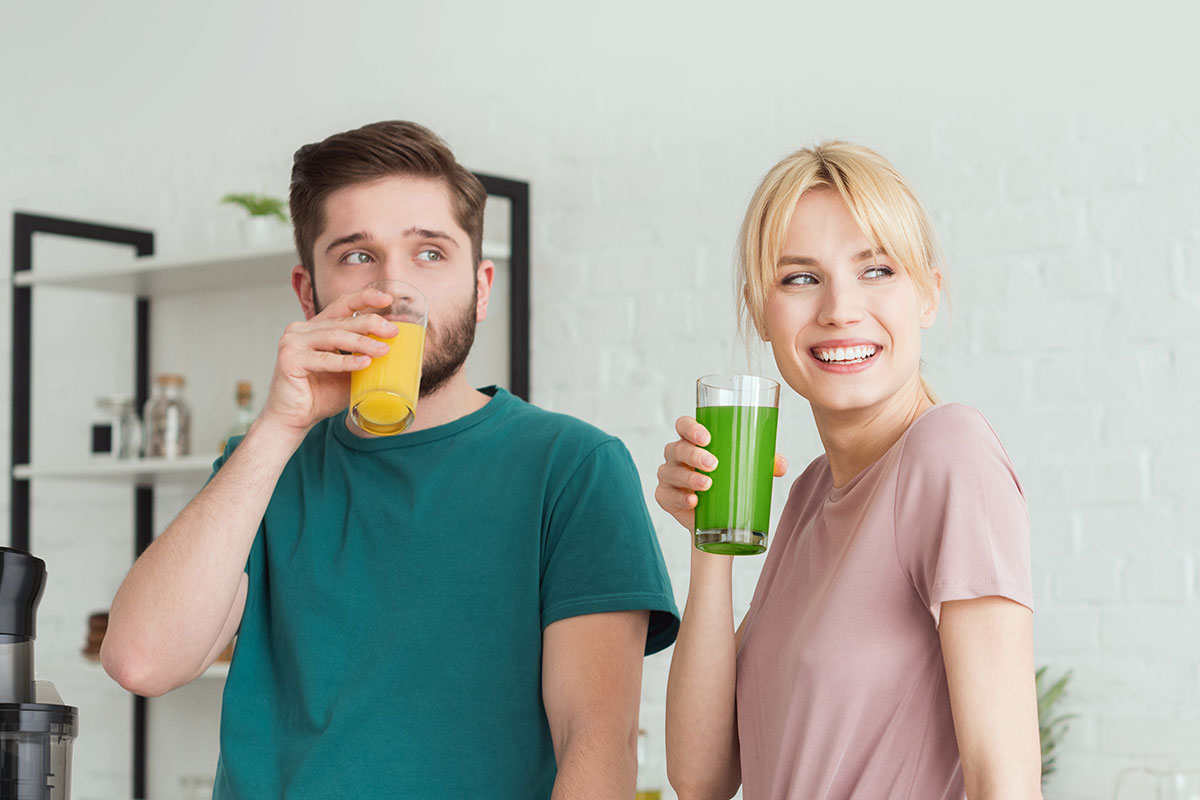 Early holiday planning already created stress in your life? Don't worry! We've got you covered with these 3 simple daily detox ideas that can help you stay centered, focused, and feeling great all season long! Try one, or all 3 on the daily!
Juicing allows a quick boost of vitamins and minerals that your body can easily absorb and use right away. Hydrating with cold pressed juice in the morning time can also aid in reducing inflammation throughout the body as your body eliminates toxins. Green juice provides chlorophyll, which works to oxygenate the brain and improve your focus, while root vegetables can help you center and ground. All of this works together for total cellular rejuvenation—YES, please!

Try these two simple juices this season to strengthen and support your immune system and for that extra dose of energy.
Root Down Immunity Booster
• 2 cups carrots
• 1 cup orange, peeled
• 1 inch ginger, peeled

Directions: Place all ingredients in the SJX-1 and juice fresh! This combo is warming too as your body works to push out and detox it will keep your body moving and boost your metabolism at the same time! Win-Win!
SHOP JUICERS
Daily Greens in the Greenstar
• 2 cups kale
• 2 cups spinach
• 2 cups celery
• 2 cups green apple

Directions: Rotate juicing each ingredient until completely juiced through the Greenstar Juicer. Enjoy this fresh cup of green juice and benefit from the fortifying minerals like calcium, iron, and more!

Did you know the Greenstar extracts more of these valuable minerals while juicing?
LEARN MORE
"Raw Foods" aka living foods are fresh raw fruits and vegetables that are enjoyed fresh or minimally processed in a blender or dehydrator under 118°F. The big benefit of enjoying lots of fresh raw fruits and vegetables come in the increase of antioxidants, enzymes and additional nutrients present in these foods. This helps your body build up stronger while at the same time supporting the daily detoxification process by helping cells convert energy and rebuild. Replacing current snacks with fresh carrots and celery or enjoying the simple dessert of a fresh fruit is an easy way to start getting more raw foods in your daily routine.

Try these 2 simple lunchtime meals next week and see how they benefit you—they each have at least 70% raw foods mixed in with other plant based proteins.
Shaved Root Salad Bowl
Makes 2 servings.
Root vegetables provide a hearty amount of minerals to boost your overall strength and daily nourishment. Enjoy this salad as an entrée and make extra to enjoy throughout the week as a side dish! Vegetable noodles are spiralized with the Shine Electric Spiralizer.

• 2 cups carrots curls
• 1 cup zucchini noodles
• 1 cup yellow squash noodles
• ½ cup beet curls
For the dressing:
• 1/3 cup olive oil
• 1/3 cup lemon juice
• ¼ cup pine nuts, cashews, or macadamia nuts
• 1 clove garlic
• ½ tsp sea salt
For garnish:
• Capers
• Fresh Basil
• Quinoa (optional)
Directions: 1) Blend all dressing ingredients. 2) Prep all vegetables and combine in a large mixing bowl, save beets. 3) Toss the dressing with the vegetables. 4) Add in beets, toss lightly, or save beets to include on the top garnish. 5) Garnish and serve.
SHOP 4-IN-1 ELECTRIC SPIRALIZER
Chipotle Ranch Bowl
• 1 cup shredded jackfruit
• ½ cup black beans
• ½ cup rice
• ½ cup avocado
• ½ cup shredded beets
• ½ cup carrot curls

For the sauce:
• 1 red bell pepper
• 2 Tbsp tahini cheese
• ¼ cup lemon juice
In a bowl, whisk the sauce ingredients and set to the side.
Directions: In a small sauté pan over low heat cook the jackfruit with 1 Tbsp olive oil, 1 Tbsp chili powder and 1 tsp sea salt until it becomes dry. Layer in a bowl as follows the ingredients in the recipe: rice, black beans, shredded beets, jackfruit, carrot, avocado, and then top them with the sauce. Enjoy fresh!
Call it a Tea or a Tonic, elixirs can be created from a wide variety of herbs, flowers and superfoods. Elixirs tend to be a light consistency with a smooth texture. Many can be made with a simple tea kettle like the Glass Tea Kettle with Raw heat settings. The raw settings allow for a gentle warmth to permeate your mix for a refreshing sip while protecting the valuable antioxidants in many of the elixir ingredients.If you're new to Elixirs, this recipe is a great starting place for a daily detox elixir that works to relax the nervous system and promote a sense of calm.
Cinnamon Hibiscus Elixir
• 2 Tbsp dried hibiscus leaves
• 1 Tbsp dried cranberries, non-sulfered
• 1 tsp orange peel, dried
• 1 tsp cinnamon
• 2 cups water

Directions: Add all ingredients to a reusable tea bag and place in the glass tea kettle. Set at raw and let sit 3-5 minutes. Pour out and sip slowly! Enjoy chilled in the warmer months by refrigerating after brewing.
SHOP RAW TEA KETTLE
Shop Tools for Your Holiday Detox
Liquid error (sections/pf-85fe2e92 line 379): product form must be given a product